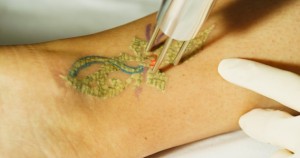 Destination Laser offers fading and lightening of tattoos for patients preparing to get a cover-up tattoo. Cover-up tattoos are another great solution to dealing with unwanted tattoos. A cover-up tattoo helps conceal an existing tattoo with a new design or by transforming it with the incorporation of new elements.
Many tattoo artists often suggest laser tattoo removal to their cover-up clients due to the amount of ink they must use in order to cover up an existing tattoo. Darker, more heavily pigmented tattoos require an excessive amount of ink to completely hide the existing tattoo, thus making the cover-up tattoo even more dense and limiting the tattoo artist's ability to be as creative as possible.
The easiest tattoos to cover-up are very old, naturally faded tattoos or lightened tattoos that have been faded down through laser tattoo removal. Laser tattoo removal is very helpful for cover-up tattoos as it creates a lighter, cleaner canvas for the tattoo artist to be more flexible with in regards to color and design, allowing for a better end result and very satisfied client. Most tattoos will need only one to three treatments for effective fading.
Helpful Connections
If you've been thinking about getting a tattoo cover-up and want to have it lightened beforehand, ask one of our laser technicians for more information on tattoo fading. Our partnership with Destination Tattoo can get you in touch with one of their talented cover-up tattoo artists — just ask us for a referral! Below are pieces of body art created by the artists at Destination Tattoo.
Laser tattoo removal is extremely helpful to both you and your tattoo artist for lightening a pre-existing tattoo in preparation for a cover-up. Our Astanza Duality has the ability to fade tattoos with as little as one quick treatment and can even selectively target a specific portion of your tattoo that you want to have removed.