Tattoo Removal Professionals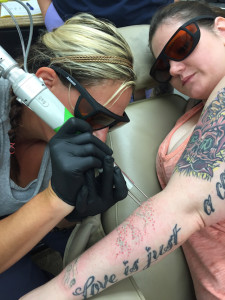 Destination Laser is THE leading provider for state-of-the-art laser tattoo removal. What makes us the best? Unlike other medical spas and laser clinics, we don't offer multiple procedures. We put all of our work and energy into one service and one service only, laser tattoo removal.
We are a specialty laser clinic in Des Moines, Iowa that specializes exclusively in the removal of tattoos. Our goal is to provide Des Moines and other surrounding communities with safe tattoo removal treatments and effective results.
We have a strong partnership with and are co-located inside of Destination Tattoo, one of Des Moines' finest tattoo studios. Our close relations with Destination Tattoo can get you in contact with one of their talented artists for a cover-up or tattoo consultation. We love and appreciate all forms of body art — we just want to help you get rid of the bad ones!
State-of-the-Art Technology
Destination Laser utilizes the latest, most advanced tattoo removal laser technology, the Astanza Duality. This innovative laser is specifically designed for targeting and removing tattoo ink trapped in the skin. No other laser can safely penetrate through the skin and deliver effective results like our technology.
Our Duality laser is backed by Astanza, the leaders in tattoo removal technology, and is used by the top laser tattoo removal clinics worldwide. Our Duality is specially engineered to deliver better ink shattering with each treatment, meaning fewer overall treatments for you.
Expertly Trained Skin Specialists
The team at Destination Laser is highly knowledgeable in laser tattoo removal and skin care and genuinely cares about each and every patient's results.
Our laser technicians have been trained by the tattoo removal experts at New Look Laser College, the world's leading tattoo removal training program. 
They have earned the designations of Certified Laser Technician, Laser Safety Officer, and are certified in operating 1064 nm and 532 nm Q-switched Nd:YAG lasers.
At Destination Laser, all treatments are performed by licensed medical professionals, including nurses. They have decades of experience caring for patients and will expertly care for your skin.
---
All Destination Laser treatments are performed in a welcoming atmosphere that is relaxing and private to make you feel completely comfortable during the procedure.
If you've been thinking about removing your tattoo, then come in for a free consultation and talk to one of our expert team members in person. We will assess your tattoo and figure out a pricing quote that best fits your budget.
Make tattoo regret a thing of the past!